You Won't Find Fake Imitation Stone Here...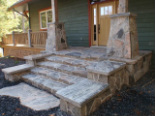 Only Real, Natural Granite that can stand the test of time....
Quarried in Muskoka, Ontario, for LESS
REAL GRANITE VENEER & SPLIT RIVER ROCK


---
With Granite Veneer you can easily create the
Granite Fireplace or Stone Exterior of your dreams.
It's lighter, thinner and easier to work with than
building stone and with use of our veneer corners
it will look like traditional full bed building stone.
Granite veneer can save you time and money in installation, it won't pit from salt and it will hold it's colour.
Do it once and do it right with REAL Granite Veneer for LESS
---
Granite Sills

---

Why choose cultured or limestone when you can have real granite that resists pitting and holds its colour ? Muskoka Granite Stands the Test of Time.


Cut Flag, Custom Cuts

---

Custom Corners

---
"We pride ourselves on affordable pricing, quality and on time order delivery"
We look forward to working with you on your masonry or landscaping project.